4SN series pump is 4inch integrated submersible pump which is designed to pump water from bottom inlet. They are suitable for transferring water without abrasive particles, for well water lifting, farm irrigation, garden irrigation and living water supply,industrial water eliminating, construction water supply and drainage, breeding industry water supply and drainage, etc.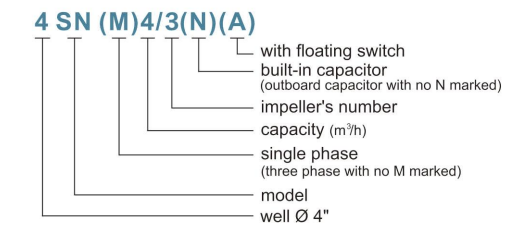 Maximum fluid temperature up to +35℃
Maximum sand content:0.15%
Minimum well diameter: 4"
Rewindable motor
Single-phase:220-240V/50Hz
Three-phase:380-415V/50Hz
Equip with start control box or digital auto-control box
Pumps are designed by casing stressed
Curve tolerance according to ISO 9906
| | |
| --- | --- |
| Components | Material |
| | |
| Delivery casing | AISI 304 SS |
| Suction lanterm | AISI 304 SS |
| Pump external casing | AISI 304 SS |
| Diffuser | Plastic.PC |
| Impeller | Plastic.POM |
| | |
| Motor external casing | AISI304 SS |
| Top chock | Cast-iron ASTM NO.30 |
| Bottom support | AISI 304 SS |
| Mechanical seal | Graphite-Ceramic |
| Shaft | AISI 304 SS-ASTM 5140 |
| Seal lubricant oil | Oil for food machinery and pharmaceutic use. |
Other voltages or frequency 60Hz

Single phase with built-in capacitor
Float switch for optional