4SDM deep well submersible pump is used to pump water from drilled deep wells, borehole wells, ponds, and lakes. Ideal for sprinkler lawn irrigation, household tap water, swimming pool filling, elevated and cistern tanks filling, water fountains, industrial and farming water supply, and agricultural irrigation.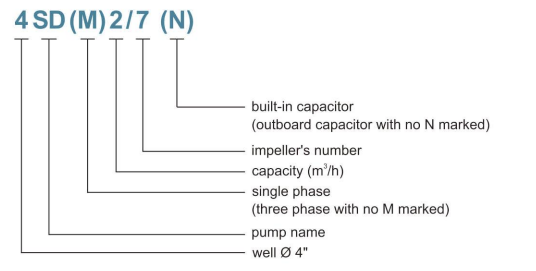 Maximum liquid temperature +35 °C
Maximum sand content:0.25%
Maximum immersion depth of 60 m
Minimum well diameter:100mm
Installation: vertical
Rewindable oil-filled motor 50/60Hz
Food degree mechanical oil
Voltage:
single-phase 110V/60Hz, 220V-240V/50Hz, 220V/60Hz
three-phase 380V-400 V
Insulation: class F
Protection: IP 68
Components
Material




Pump external casing
AISI304 SS
Delivery casing
①Cast-Cu ASTM C85500 ②AISI 304 SS
Suction lantern
①Cast-Cu ASTM C85500 ②AISI 304 SS
Difuser
Plastic.PC
lmpeller
Plastic.POM
Shaft
AlSI304 SS
Shaft coupling
AlSI304 SS
Wear ring
AlSI 304 SS




Motor external casing
AlISI 304 SS
Top chock
①Cast-Cu ASTM C85500 ②AISI 420 SS
③Cast-iron ASTM NO.30
Bottom support
AISI 304 Ss
Mechanical seal
Special seal for deep well(Graphite-Ceramic)
Shaft
AISI 304 SS-ASTM5140
Seal lubricant oil
Oil for food machinery and pharmaceuic use.
Top chuck is available with brass or SS304
Delivery casing, Inlet parts are available SS304
Other voltages or frequency 60Hz
Single phase motor with built-in capacitor